October Half Term Guide 2018
Published:
Categories
If you're spending your half term break in Gloucester have no fear! We've chosen a selection of the best local, child-friendly events in the city centre and the surrounding areas purely for your enjoyment! Due to the spooky season the majority of activities are Halloween-themed, so dig out your capes, dust off those broomsticks, and save the sweeping for later! Take a ride with us as we explore town - 'Accio'!
Monday 22nd October
Spookyard daytime Halloween family fun at Over Farm! This spectacularly spooky event is jam-packed with activities for the whole family to enjoy throughout half term! Jump aboard the tractor trailer, take aim at the Corn Cannon, follow the Scarecrow Trail, pick your free pumpkin from the patch and get carving! Running until Sunday 28th October, open 10am - 4pm daily. Tickets £12 and under 1's free! Find out more.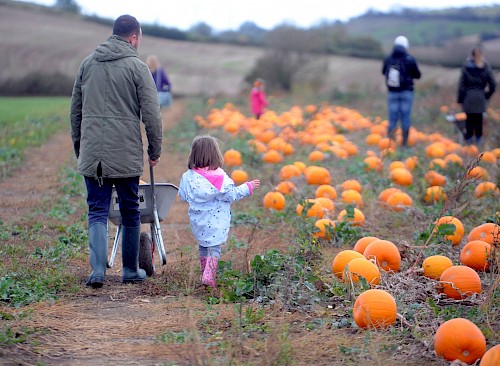 ---
The Rotary 5 Valleys firework display has been wowing the masses for over 50 years and apart from giving the people of the Five Valleys an enjoyable evening, has raised nearly £250,000 for local charities! On-site entertainment includes the John Coneley Funfair, Punch & Judy, balloon bending, stalls offering hot food and snacks and of course a big bang display from Star Fireworks! Gates Open 6pm, with the fireworks display from 8pm. Gate entry ticket price is £10 per adult and £5 under 12's. Find out more.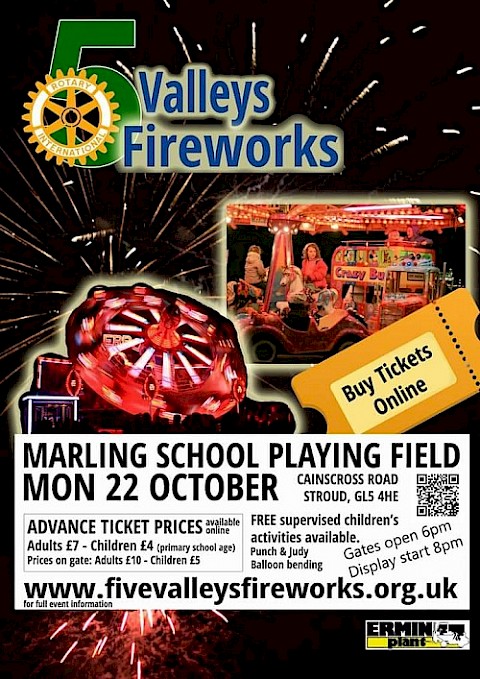 ---
Array
Tuesday 23rd October
Let's get messy! Little G's is running a different halloween activity each for 5 days, in the run up to ghool gatherings on the doorstep (aka trick or treaters)! Today it's mask-making and tomorrow, trick or treat bags! Other activities throughout the week include monster puppet making, slime making and finishing off the week with a fancy dress party! Running 10am - 5pm in Eastgate street, fees range from £1 per adult - £4.50 for ages 5+. Find out more.
---
Get ready for Halloween by making your own spooky mask or cape at the Brockworth Library Halloween craft session! This is a community event with half of all profits going towards helping your local library, just £3.50 per crafter including all materials and free activity pages. This is a drop in session between 10am - 12pm, but registration is advised to allow for plenty materials (so no child goes unmasked)! Find out more.
---
For lovers of the movie franchise, now's your chance to enjoy Hotel Transylvania 3: A Summer Vacation! Mavis surprises Dracula with a family voyage on a luxury Monster Cruise Ship (so he can take a vacation from providing everyone else's vacation at the hotel)! The rest of Drac's Pack cannot resist going along, but once they leave port, romance arises when Dracula meets the mysterious ship Captain, Ericka! Showing at 2pm at the Guildhall on Tuesday 23rd & Thursday 25th October, at just £4 per person! Find out more.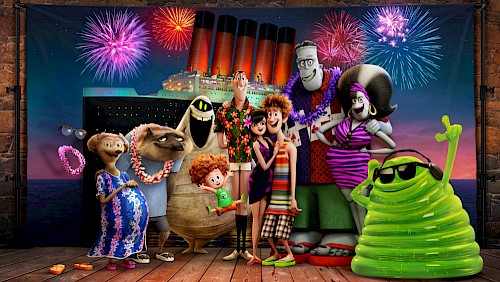 ---
Array
Wednesday 24th October
Churchdown Library is offering a free morning of magical Halloween craft activities, there's no need to book, just turn up between 10:15am - 12pm! A great way to entertain the little ones while encouraging their creativity and making new friends! Find out more.
---
Christopher Robin tells the story of working-class family man, Christopher Robin, as he encounters his childhood friend, Winnie-the-Pooh, who helps him to rediscover the joys of life! Enjoy this much-loved film at Gloucester Guildhall today, showing at 5.45pm. Tickets cost £5 per person, a lovely family-friendly film with not a pumpkin in sight! Find out more.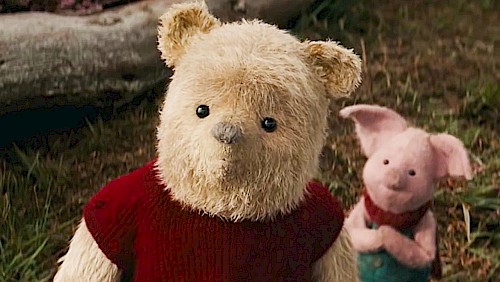 ---
Thursday 25th October
The Big Draw event is encouraging us to pick up a pencil and get creative. It's known that doodling for 15 minutes a day improves your drawing skills dramatically, so we'd best get sketching now ahead of the 3 day activities on the cathedral green! Today from 11am - 3pm it's all about stenciling, with Andy Dice Davies, street artist and Director of Cheltenham Paint Festival running drop-in stencil workshops. Explore your creative side and walk away with your very own piece of street art! All materials are supplied, however best arrive early to beat the queues - we can't complain, it's FREE! Find out more.
---
Array
Quedgeley Library welcome the community outreach team from Tesco for this special creative creepy craft event! Children can learn how to make their very own pom pom spider, ready for Halloween pranks! Running as a drop in event throughout the afternoon from 2:30pm - 4:30pm. It's FREE too! Find out more.
---
The Coney Hill Children's Halloween Party at Coney Hill RFC is the perfect chance to embrace your inner Zombie (although it's pretty true to life if you're suffering sleep deprivation)! This fun-filled family event comes complete with a disco, party games and sugary treats, a raffle, and a prize for the best fancy dress! Did we mention it's completely FREE?! From 4pm - 7pm. Find out more.
---
Friday 25th October
The Soldiers of Gloucestershire Museum Halloween Trail takes you on a spooky journey as you work together for a treat by matching various objects to their shadows. Open from 10am - 5pm until Wednesday 31st October. General admission from £4 for adult children £2 and under 5's FREE! Find out more.
---
Array
Explore the Giant Bionic Bug Trail! Everything busy bees need for a buzzing day out! Search for giant animatronic bugs and find out fascinating facts about the minibeasts that inhabit our wetland world. Meet a 6ft long dragonfly, a 4ft buzzing bee, and a 6ft long hopping grasshopper amongst others on our new trail, brought to life with state of the art animatronics and sound effects. Half term activities include Minibeast hunts, Bug storytelling, Pond dipping, Make your own mini bug house, Bug themed arts and crafts and Take a picture of a real-life bug! #buglife! Giant Bionic Bugs runs daily 9.30am - 5pm until Sunday 4th November. Costs vary from £6.95 per child and under 4's free. Find out more.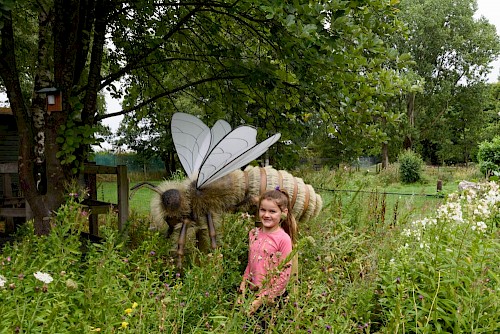 ---
Saturday 26th October
A morning of make-believe? Pass the tiara! Matson Library offers Dress Up Story Time (sadly for children only)! Wear your own costume or try on one from the fancy dress box - who will you choose to be? Read stories and take part in Saturday Craft and Fun Zone. No booking required, just turn up! From 10:30am - 11am, it's free too! Find out more.
---
Array
Okay, so Gloucester Zombie Walk is a little scary - but when do you ever put makeup ON to look WORSE?! We'll embrace the novelty - it's for charity! Ghoulishly gory zombies drag through the streets to raise money for Sue Ryder Leckhampton Court Hospice. There will also be face painters and halloween crafts for children at The Eastgate Shopping Centre from 11am - 3pm. The Zombie Walk leaves from Café René at 3pm - be prepared to be scared! Find out more.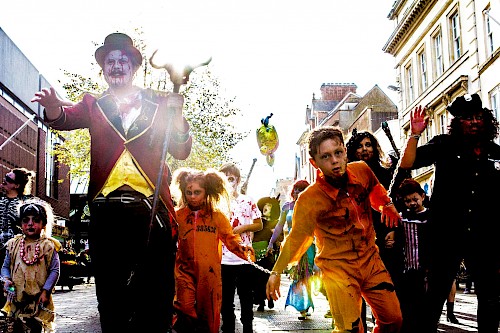 ---
Bop along to the Halloween family disco at Podsmead Community Association! Party games and fancy dress for the children (and grown ups) with prizes for the best dressed! From 7pm until bedtime - it's FREE too! Find out more.
---
Sunday 27th October
Scaling new heights is Gloucester's biggest ever bungee - do you dare to take the 160ft leap?! Suitable for over 14's and over 50's are required to have a doctors certificate to comply with insurance regulations - perhaps we'll just watch?! From 11:30am - 5pm in the city centre, prices average £50 with student, concession and GL card holder discounted rates available. Find out more.
---
Array
There's nothing like a seasonal market to get us in the mood for Christmas - I said it, and it's not even November! The annual craft fair at Nature in Art has become well known as a source for unique, individually handcrafted gifts, sold directly by the craft people who made them, so often a gift can be personalised to make it even more special! Many of the makers will also be demonstrating so you will be able to see just how your unique gift was created. The craft fair includes woodturning, jewellery, ceramics, textile items, as well as stained glassware, metal work, paper crafts and children gifts. You may also be a winner on the raffle or tombola, so make sure you purchase a ticket! From 10.30am - 4.30pm, £2 entry and free for under 16's. Find out more.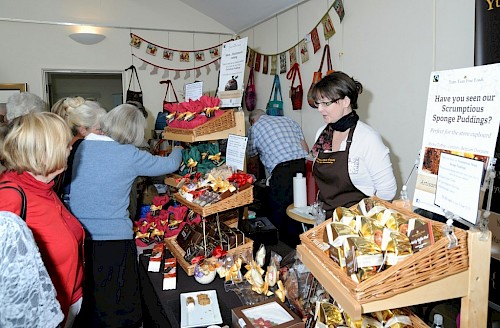 ---
That's all for now folks, we hope you have a wonderful week of outings, scoutings and spooky sightings! Expelliarmus!
You can browse Gloucester Rocks any time and search activities, attractions and events by day, age, cost, distance and category.
---