Flower Fields Around Gloucester
Published:
Categories
It's that time of year again, the flowers are in bloom! In and around Gloucestershire you can find a wave of colour to brighten up your Summer's day. Common this time of year is lavender, poppies, delphiniums and sunflowers all grown in mass creating a sea of colour that looks spectacular.
The fields make great back drops for that Summer photo shoot. However, when I visited with my children last year they were so happy to run freely through the fields that when I asked for a family snap nobody wanted to play ball. What can I say, I tried! Of course great memories were made but I'm sure you can get that 'picture perfect' image when you visit with yours!
Here are four flower fields within an hours drive of Gloucester that will be opening their doors for visitors during the Summer months.
---
COTSWOLD LAVENDER ~ Lavender Fields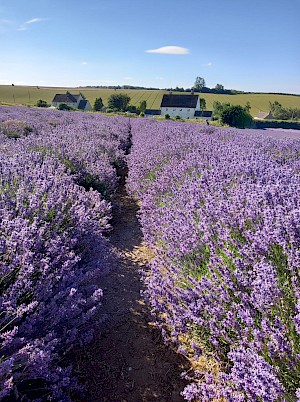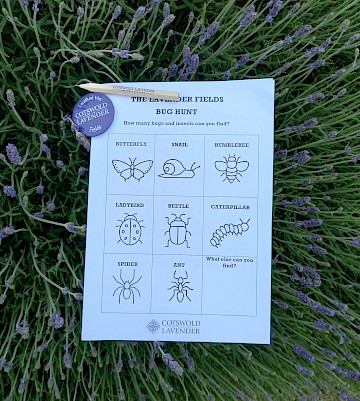 Hill Barn Farm, Snowshill, Broadway, Worcestershire WR12 7JY
When: Open from 14th of June to the 6th of August
A third generation family farm set in the heart of the beautiful Cotswold Hills overlooking Broadway and the Vale of Evesham. As well as lavender in abundance there's refreshments available to buy on site including lavender ice cream! We had a great time when we visited. There's a range of lavender to see from the newly planted to the more established plants and my children loved running through the rows upon rows of purple stipes! We took a picnic and set up in a quiet spot at the far end of the fields but there are plenty of picnic tables dotted around. You can purchase refreshments from the kiosk.
Tickets can be purchased on the door, they will not be selling in advance. It's card sales only.
Adults £7.50, Children (5 - 15 yrs) £3.25, Under 5's Free
Time taken to get there from Gloucester: Approx 50 minutes by car.
---
Array
THE REAL FLOWER PETAL CONFETTI CO. ~ Delphinium Fields

Where: Wyke Manor, Wick, Pershore, Worcestershire WR10 3NZ
When: Open from 30th June – 9th July 2023
For just a few days in midsummer, an ordinary farm field bursts into colour… Acre upon acre of tall and elegant delphinium flowers in full bloom. It is certainly quite a sight to see! The views are spectacular and the different shades of purples, pinks, reds and white are beautiful.
Booking must be made in advance online. All admission costs £6.50 – Adults & children (under 5's will be admitted for free).
Time taken to get there from Gloucester: Approx 50 minutes by car.
---
PLOCK COURT ~ Poppies and Wildflowers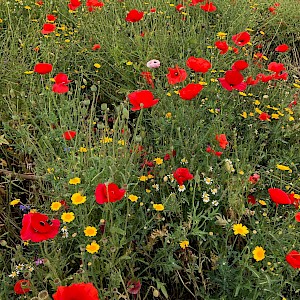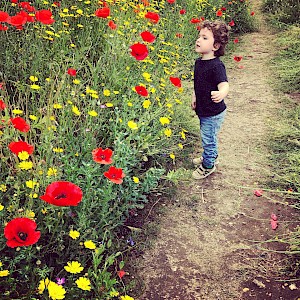 Plock Court, Glouceste, GL2 9DW
Open all year round but poppies and wildflowers start blooming in June. On the left side of the field you can walk through the pathways to enjoy what's on offer. It is free to visit and there's parking on site too. The poppies are amongst the 26 hectare park which means you can get a good walk in too. In the left part of the field there is a large wetland area which was developed, to increase wildlife on the site, and also to act as a flood prevention scheme for the surrounding area. It's great to explore this area with the little ones as you can spot many insects, damselflies, dragonflies, birds and animals.​
Time take to get there from Gloucester: Approx 10 minutes
---
Array
Flower Fields at Cotswold Farm Park ~ Sunflowers, Poppies and more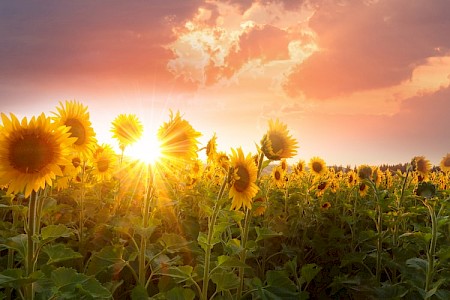 https://cotswoldfarmpark.co.uk/
Adam Henson's Cotswold Farm Park, Guiting Power, Cheltenham, Gloucestershire, GL54 5FL
When: Open from around July- August 2023 TBC
Cornfield annuals, poppies, corn chamomile, cornflowers, corncockles and red campion will all be on show, varying slightly in their bloom time. Sunflowers will be accessible from July, but will bloom in around mid-August.
Entry is free for visitors to the Farm Park, or Flower Field only tickets can be bought for £5 for adults, £3 for kids.
Approx time taken to get there from Gloucester: 40 minutes
Wildflowers are vital to the environment and conservation, providing pollinators with food, shelter and breeding space, and their seeds are an important food source for birds and small mammals.

Enjoy, make memories and help little ones better understand our beautiful yet delicate countryside
---
We'd love to hear how you get on when visiting any of the flower fields listed above and feel free to tag us in your flower-spotting adventures. If you find other fields too please drop us a note, we'll add them to the article above.
Looking for something to do in Gloucester? Browse Gloucester Rocks for tonnes of ideas, from walks and parks to attractions and events.
---