Easter Holidays In Gloucester - Week One
Published:
Categories
Gloucester has totally cracked the Easter holiday code; Maximum events + the promise of playtime = BIG FUN! There are SO many fantastic events in Gloucester and the surrounding areas for kids this April, not including the epic egg hunts! We've got a seperate guide dedicated to all things oval, chocolatey and hidden in grass HERE, with another guide featuring Gloucester-based activity camps HERE. Read on for part one of our Easter What's On guide, carry on scrolling!
---
All Week
Gloucester Cathedral knows how to crowd-please, with this fab Easter event! All are welcome to 'Eggsplore Easter' at Gloucester Cathedral, simply pick up an activity sheet from the gift shop to take part in the activity (if bought with the Discovery Trail it will be free). Running daily from 7am - 6:30pm until Tuesday 23rd April. Find out more.
---
Easter holidays have never looked so good at Over Farm! There's the children's Easter trail and the inflatable theme park (from Saturday 6th Monday 22 April 10am-5pm). The park features over 15 attractions suitable for children aged 2 - 14, with an all day, unlimited wristband for the inflatable attractions costing £8 per child (accompanying adult entry to the theme park is free). Over farm is open most days from 9am - 4pm/5pm. Find out more.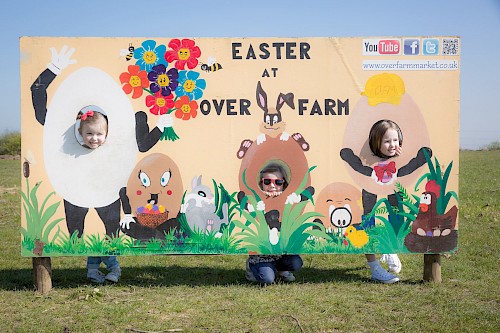 ---
Array
Waterstones Gloucester is really wowing customers this Easter holiday with free activities, including prize draws, egg hunts, puzzles, crafts and games, so you'll have lovely, entertaining place to bring the children! Running until Monday 22nd April from 9am - 5:30pm (depending on store opening hours). Find out more.
---
Saturday 6th April
Brunch? Bouncing? Yes to all that! Brunch and Bounce is a fun and relaxed monthly meet-up, held at Cathedral Chapter House, from 9:30am - 11:30am. With a bouncy castle and crafts for children, grown ups can expect good coffee, pastries and the weekend papers! Find out more.
---
An hour of free fun from Churchdown Library today from 11am-12pm, with Alice In Wonderland storytime and Alice-themed craft activities! Find out more.
---
Continuing with story time, Waterstones Gloucester is hosting an activity day dedicated to Poppy and Sam! You're invited to celebrate this momentous event with free, fun Poppy and Sam games and activities, from 9am - 5:30pm. Find out more.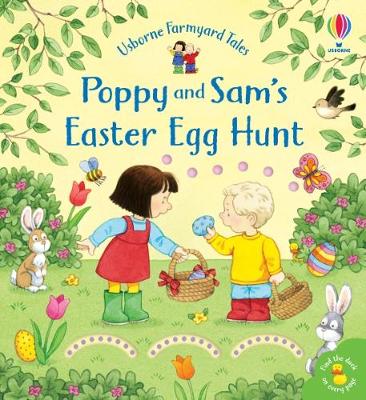 ---
Array
Is it a bird? Is it a plane? Nope, it's just a party for superheros - casual! Superheroes (you know who you are) are encouraged to come along to Hucclecote Community Association for an afternoon of family fun! Generation Events and HCA are bringing you special guests; Spiderman and a Power Ranger, for a fun-filled afternoon of party games and music, from 3pm - 5pm, tickets from £5. Find out more.
---
Sunday 7th April
Movies For Juniors returns this weekend with a showing of The Kid Who Would Be King (PG) at the Quays at 10am. Old school magic meets the modern world in this epic adventure, as Alex stumbles upon the mythical Sword in the Stone, Excalibur. With the future at stake, Alex must become the great leader he never dreamed he could be! Find out more.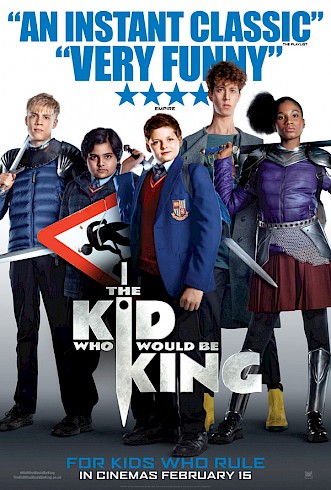 ---
This Easter Fun Day at Quedgeley Village Hall offers something for the whole family! With cake and craft stalls, face-painting, a drama and dance performance, imaginative egg decorating and an Easter egg hunt! From 12pm - 3pm, 50p entry and children under 12 go free! Find out more.
---
Array
Easter just got messy, thanks to Kingsholm House Church Easter celebrations at The Roots Coffee Community, from 4pm - 6pm! Suitable for ages 0-11 and their grown ups, enjoy Easter crafts, games, singing and a tasty meal for the whole family - all free of charge! Find out more.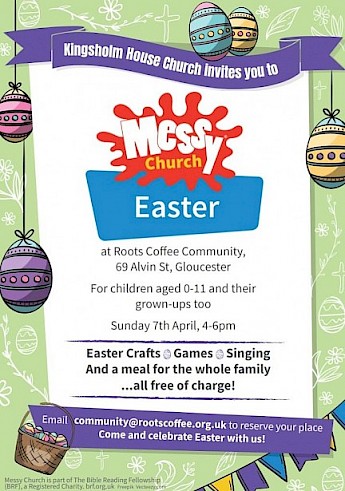 ---
Monday 8th April
Ease into time off school with some lovely Easter-themed crafts at Longlevens Library. Little bunnies can hop along (with their grown ups) for an afternoon of activities with Lesley Andrews from 2:30pm - 4:30pm, did we mention it's free?! Find out more.
---
Tuesday 9th April
More free fun follows thanks to Quedgeley Library, with Easter-themed activities for the whole family and children ages 3+ to enjoy! Book a slot from either 2pm - 3pm or 3:15pm - 4:15pm. Find out more.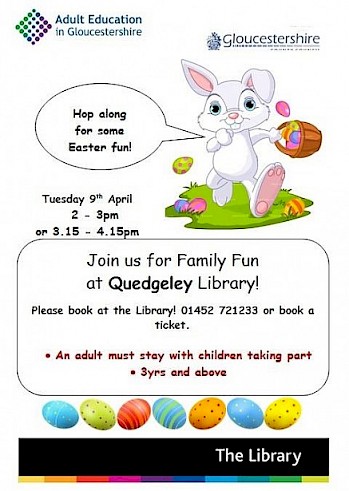 ---
Following on from the popular Experience Day in February, National Waterways Museum Gloucester and Canal & River Trust are offering young people (in year 3 upwards) another opportunity to participate in a Young Curators Day. They will learn how to look after museum objects, have a go at curatorial tasks and introduce some objects to the public! From 11am - 2:30pm, and it's free! Find out more.
---
Array
Join Brockworth Link and have a go at customising your own easter bonnet or summer cap! With eggs to decorate (you can choose from bouncy or plastic eggs) using a massive range of embellishments, bows, ribbons, pom poms, flowers and fabric paints! From 2:30pm - 4:30pm, cost £4 per person. Find out more.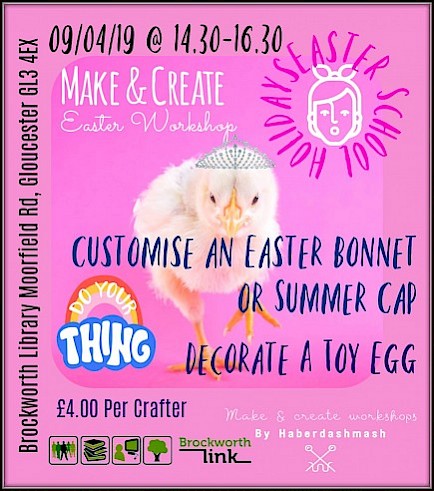 ---
Wednesday 10th April
Drop in to Robinswood Hill from 11am - 2pm for the Easter Eggstravaganza - a day of Easter-themed, family-friendly activities and crafts! This event is free to attend but there may be a small charge for some activities. Find out more.
---
Isn't strange to think once in years gone by, Romans walked about our streets in all their splendor?! Join the Museum of Gloucester and Lucius Sita (a real Roman soldier in full uniform) for a special 40 minute tour of the glass chamber outside Boots at 3pm - a fascinating trip for all ages! Tickets from £3. Find out more.
---
Thursday 11th April
Join in and take part in your local community project at Brockworth Library, with this creative workshop guided by local artist Joanne Callaghan and Rebecca from Haberdashmash. The 'Brockworth On The Map' project is all about bringing the community together to create a mural mosaic! Suitable for all ages and abilities, drop in sessions from 10:30am - 12:30pm and 2:30pm - 4:30pm, 50p per child and adults free. Find out more.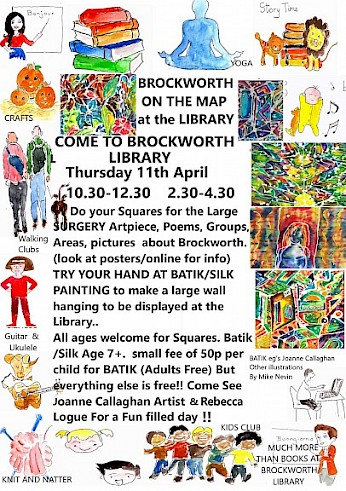 ---
Array
Enjoy the sound of bird song at Tuffley Community Centre this morning from 10:15am - 11:30am, with a special, free bird-watching event and stories by Bill Church! Suitable for children aged 7+, however they need to bring wellies and an adult! Find out more.
---
Friday 12th April
Hop along to the Phoenix Community Centre for free, Easter-themed family fun! With Easter bingo, an Easter egg hunt, Easter bonnet-making competition, arts and crafts and lots more! From 10am - 2pm, and it's free! Find out more.
---
Join Longlevens Library for an hour of free Easter themed crafts at 11am, creating beautiful Easter Baskets! As usual with Gloucestershire Library events, parents must stay with their children during this activity. Find out more.
---
Churchdown Library is hosting an egg-citing Alice in Wonderland themed dress up and play day, complete with a puppet theatre! With a range of outfits to choose from, you can dress up as your favourite Alice in Wonderland character! From 2pm - 4pm, and it's free! Find out more.
---
Array
Saturday 13th April
Support the 'Cherry and Whites' as Gloucester Rugby team take on Bath at Kingsholm stadium. Experience the excitement and tension of a home game with family and friends - you're never too young or too old to enjoy it! Kick off 3pm, tickets from £20 for adults and £12 for juniors. Find out more.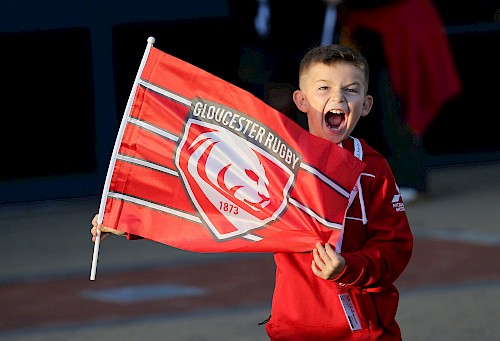 ---
Waterstones Gloucester is hosting a very special Gruffalo themed tea party! With lots of fun activities for younger kids including an edible Gruffalo craft, a Gruffalo Treasure Hunt (find the fox, owl and snake hidden in the shop), colouring, word-searches and lots of fun activities! You will also get a chance to read The Gruffalo! From 2pm - 3pm, free to enjoy! Find out more.
---
Sunday 14th April
Join Kingsway Family Fun Run this morning at Kingsway Sports Pavilion, from 10am - 12pm. Run, jog, walk, wheel or push the 1k, 2.5k and 5k routes, with all entry fees and sponsorship raised by participants donated to The Pied Piper Appeal and other Rotary charities. With different routes to Kingsway parkrun and dogs on short lead welcome, children under the age of 11 must be accompanied at all times by a responsible adult. Find out more.
---
Array
To celebrate Michael Rosen and Helen Oxenbury's 'We're Going on a Bear Hunt' being 30 years young, Waterstones Gloucester has a whole week of fun packed from Sunday 14th - Monday 22nd April! With Bear Hunt and Easter themed activities, and fab 'bear ear headbands' for your little ones to wear, as well as puzzles, colouring and story times! From 9am - 4pm today, free to enjoy! Find out more.
---
That's all for now yolks! Be sure to keep a lookout for more Easter events and activities popping up on the website soon, and don't forget you can browse the site any time and find activities by day, age, cost, distance and more!
---