Summer Fun at Over Farm
Published:
Categories
When you say 'Over Farm' what do you think of?
For me it's the strawberries. When I was a little girl we used to go strawberry picking as a treat every Summer. My brother and I would run through the fields, picking and eating a sneaky strawberry or two before popping them in the basket. My Dad would not tolerate our rogue behaviour and would always tell them that we'd eaten more when paying for our fruits to put his mind at ease. My son is 6, I first took him to Over Farm when he was 3 to do just as I did, and now my 3 year old twins also join in on the action. We love it! However, these days there's so much more to do during your visit and future plans are set to put Over Farm on the map as one of the best places to visit in Gloucester.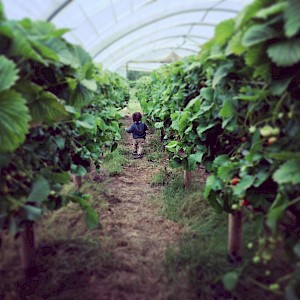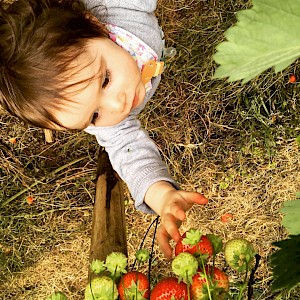 Over Farm has steadily grown over the years, offering popular seasonal events such as Frightmare and Spookyard during Halloween, Christmas trees and Santa's Grotto as well as the Farm Trail which launched this Spring which has become a firm favourite this year and is set to run throughout the rest of the Summer. I took my three during half-term and they had a blast completing the activities but what made it for them was the big bouncy pillow at the end of the tour!
Array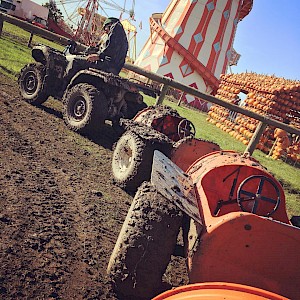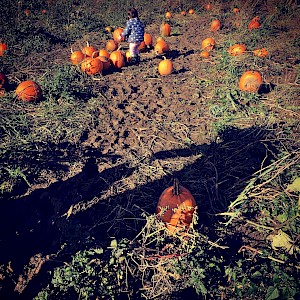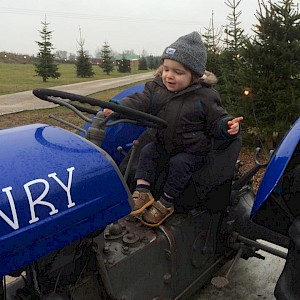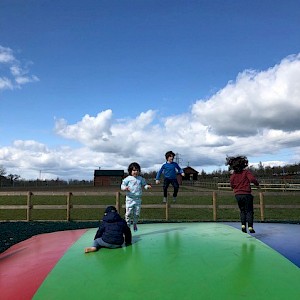 The latest addition to their portfolio is the cafe which opened in May and it wasn't until I recently visited and met with Ben, the Farm Shop Manager, that I learnt about the heritage of the farm as well as the exciting new things we can look forward to later on in the year.
You can't get more family run than Over Farm. You can find Ben in and around the shop, his brother Josh runs the catering arm (he's famous for his pies!) and his cousins Matt and Rees run the farm. Ben's parents Gill and Barry still work for the business and his Granny likes to get stuck in when it comes to visiting Gloucester market – although Ben's had to put a stop to this because of Covid, much to her dislike. But it's not just the people, it goes deeper than this. When you visit the cafe you'll be tempted by home made cakes that are beautifully presented on wooden cake stands. Well guess what, Ben's Grandad is 83 and insisted on making them by hand. The tables that you sit at and the rustic counter tops are all made from wood that was grown, chopped and treated right there at Over Farm.
Array
It goes without saying that the produce that you buy from the farm shop, butchery or cafe is home-grown on the farm but where it's not feasible to produce it, it's all sourced locally. They are a firm supporter of supporting local which adds to the ethos of the business and extends the family values a little further. The coffee (which is so good by the way!) is from Ethical Addictions who are based in Kingsholm who give back to the farms they source their coffee from. You'll also find Tubby Tom's stocked on the shelves. Why? Because his story started on the farm too. He made a batch of BBQ sauce for his colleagues whilst working at Over Farm. They loved it, he bottled it and the rest is history.
Whilst chatting with Ben you can sense the pride he has that the whole family is involved in the business, and you can also feel the excitement on taking it to the next level. Plans are underway to add even more things to entertain the kids, labelling it the 'Countryside Adventure'. In addition to the farm animals that you can currently visit you'll be able to enjoy mini-golf, a splash zone, sand pits, a maze, tractor rides an educational zone and more. I for one am super excited for what's to come and will be the first in the queue to bag a ticket!
Array
In the meantime you can familiarise yourself with Over Farm by getting in on some of the Summer fun on offer and start creating those precious memories with the children. Things to do are:
Strawberry picking
The cafe
Outdoor cinema
Whilst you're there I'd recommend browsing the farm shop and deli. I bet you won't leave without some local cheese or meat for the BBQ! And if you bump into anyone on the farm don't be afraid to say hello – they're all so friendly and happy to have a chat and help you out if they can. There's loads going on this Summer, keep your eyes peeled for new events and let us know how you get on.