May Half Term Guide: Family Events in Gloucester
Published:
Categories
Schools out for summer..almost! Before we start planning our summer holiday calendars we have a week of fun ahead - May half term! There is SO much to do right here in Gloucester this week, and we've rounded up the best events on your doorsteps from Monday 27th - Friday 31st May, as well as the weekends in between!
So, happy scrolling, and as with all of our guides we recommend grabbing a cuppa first as they can be rather lengthy!
All Week
The Museum of Gloucester's Children's Crafty Corner events offer free drop-in activities for children and their families, running all week throughout May half term holidays from 10am - 4pm. Themes covered in creative crafts this week; 'seashore stick puppets' and 'shark tissue pictures'! Find out more.
---
The Gloucester Guildhall is showing this wonderful live action re-telling of Dumbo; a young elephant, whose oversized ears enable him to fly, which helps save a struggling circus. However, when the circus plans a new venture, Dumbo and his friends discover dark secrets beneath its shiny veneer. Show times vary, tickets £5. Find out more.
---
Array
Throughout May half term, the Play Gloucestershire Play Rangers will be providing active and creative play days in urban and rural communities across Gloucestershire. Sessions this week run from 10am - 4pm, and are aimed at school aged children, young people and their families, providing adventure, friendship and fun. These session are free and open access, so you can come and go as you please! Find out more.
---
Gloucester Library is celebrating its very own Superhero Week! The action kicks off on Tuesday 28th May and runs until Saturday 1st June, including the opportunity to meet real life superheroes, and a chance to have some superhero training! From costume making, to animation - there's something for everyone! Find out more.
---
This Weekend
Welcome aboard Gloucester's Fourth Annual Sea Shanty Festival, which this year runs alongside the Gloucester Tall Ships Festival! With a great lineup of around 30 nationally and internationally acclaimed acts performing at various venues around our historic city, as well as a showcase concert in aid of the Severn Area Rescue Association. Friday 24th unti Sunday 26th May, times vary. Find out more.
---
Array
The Historic Gloucester Docks will be shown in all their splendour over the Spring Bank Holiday weekend as they play host to the award-winning Gloucester Tall Ships & Adventure Festival and are chock full of fabulous activities for all the family to enjoy! Setting Sail on Saturday 25th Monday 27th May from 10am - 5pm, adventures from the high seas and bygone days from the Victorian period will be brought to life at the Gloucester Tall Ships festival. As one of the best preserved Victorian inland ports in the country, it couldn't be more fitting to have wonderful characters from that famous era parading around in their old-fashioned but distinctive garb during the festival. Find out more.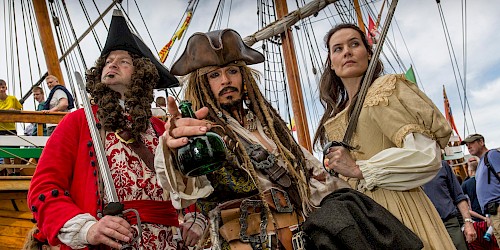 ---
Saturday 25th May
It's all about the pirates in Gloucester this weekend, with Gloucester Library offering a magical storytime from 10:30am - 12pm, shiver me timbers! Make a pirate hat and boat or a colourful parrot, come dressed up as a pirate or even a parrot! Caw! There's a prize for the best costume, although we can't promise it will be gold doubloons or discovered treasure! This is free family event, no ticket required. All ages welcome to walk the plank! Find out more.
---
Array
A'hoy there! Continuing the Shanty Festival celebrations and assemble yourselves at Cafe Rene from 2pm, to depart on a route through Gloucester Cathedral grounds, where you'll see just what mischief and mayhem that blackspot Jack Sparrow has in store! The walk is a short stroll so even the smallest swashbuckler will not tire! Well behaved salty sea dogs on leads also welcome! Find out more.
---
Soundbites is a series of creative sustainability workshops exploring the philosophy of 'jugaad', a Hindi term for the process of innovative hacks and the repurposing of objects for alternative functions. Join 'pyka' at Gloucester Library for a series of FREE family-friendly, drop-in workshops from 11am - 2pm, where you'll be giving the opportunity to create your own digital music instruments using broken, old, or unloved objects. No booking required, no experience needed and all materials are supplied! Find out more.
---
Pop along to Quedgeley library from 11am - 12pm to celebrate the 30th birthday of Elmer the Elephant! Suitable for ages 3+, limited spaces and materials available and phoning ahead is advised. Find out more.
---
Array
Sunday 26th May
Join The Alfresco Film Company for a bank holiday weekend family adventure and journey into the LABYRINTH, in this classic Jim Henson fantasy film at the wonderful Over Farm! With a whole host of unforgettable characters, songs and stunning visuals combine to create a nostalgic trip filled with magic, danger and excitement. Showing at 9:30pm, pre-booking is advised. Find out more.
---
Meet Rapunzel and a new princess at The Treddy in Gloucester, thanks to Little Dreamers Events, who are supporting a wonderful little girl as she has 16 inches of hair chopped off for The Little Princess Trust! There'll be lots of other stalls and entertainment, exciting games, activities and an unforgettable character experience - so come along and support a great cause from 1pm - 3pm. Find out more.
---
Monday 27th May
A bank holiday afternoon of fun for everyone at Saintbridge Sport Centre Kids Fun Day from 12pm - 4pm! Fun and games include a bouncy castle, skittle alley and gladiator inflatables! The Slush Puppy machine on site will be the perfect refreshment for this afternoon of activity! Find out more.
Tall Ships, Dumbo and Children's Crafty Corner is all going on today too!
---
Array
Tuesday 28th May
Does your little one want to be a Superhero? Come train and learn with the best! Make My Day Events is coming to Gloucester Academy today from 2pm. There's an hour long show, a circus skills session and meet and greet photo opportunity at the end of the show. Find out more.
---
A rare opportunity to handle some of the hidden objects in the Museum of Gloucester collection, choose from free sessions at 10am - 12pm or 2pm-4pm. Running Tuesday 28th May and Saturday 1st June. Find out more.
---
Join Quedgeley Library from 2:30pm - 4pm for this drop in Garden Craft event - free family half term fun! Limited places and materials and booking is essential, suitable for ages 3+ and their grown ups. Find out more.
---
Wednesday 29th May
Ever looked down through the glass chamber outside Boots and wondered what else is down there? Well why not go down and take a look! Join the Museum of Gloucester and their very own Lucius Sita (a real Roman soldier in full uniform) for special tours - a fascinating trip for all ages! The tour runs from 3pm - 3:40pm today and Saturday 1st June. Find out more.
---
Array
Join in the half term fun at this family-friendly event and get involved with wildlife-themed activities and crafts at Robinswood Hill! No need to book, just turn up on the day from 11am - 2pm! This event is free to attend, but there may be a small charge for some activities. Find out more.
---
Come along to Churchdown Library this morning from 10:15am until 12pm for Jungle Book themed craft club! This fun activity is perfect for children and their grown ups - try your hand at clay mask making! Free to attend, all are welcome! Find out more.
---
Thursday 30th May
Calling all Superheroes! This interactive theatre performance from Pyjama Drama is perfect for little ones looking to dress up in their best disguise and play! Children ages 3 - 6 and their grown ups are welcome to grab their capes and fly to Coopers Edge Community Centre from 10:30am - 11:30am. Find out more.
---
Come along to the Food & Families Fun Day at the Ramblers Community Centre, for a FREE buffet lunch provided by the Melting Pot Café from 11:30am until 2pm! Lots of food and fun activities, with a chance to have your healthy recipe published in the community cookbook! Fruit kebab making and pitta packing - yummy! Find out more.
---
Array
If you're over 3 years old, pop along to this drop in event at Tuffley Community Centre (with your adult) to decorate rocks and plant pots, or maybe plant some seeds with the help of Tesco Community! This is a free event running 10:30am - 12:30pm, although supplies may be limited. Find out more.
---
Looking for fun, free things to do over the half term holiday? Look no further! KRBC is holding another Lego Club today from 2:30pm - 4pm. There will be plenty of Lego to create with, some fun competitions, and of course plenty of coffee, cake and chat for the grown ups! Find out more.
---
The free half term fun continues at Quedgeley Library this afternoon, with sessions at 2:15pm and 3:30pm. This garden craft event involves seed planting and hand painting, so wear old clothes! Limited spaces, with activities suitable for ages 3+. Find out more.
---
Friday 31st May
With a Civic Trust guide, visit the Eastgate Chamber and discover Roman walls from the 2nd and 4th centuries, a medieval gate tower from the 13th century and a horsepool from the mid-16th century! This interesting and informative tour lasts roughly 40 minutes, from 11am - 11:40am. Find out more.
Children's Crafty Corner, Play Gloucestershire and Superhero Week all run today too!
---
Array
Saturday 1st June
International Children's Day is back from 12pm - 5pm! The day is fully packed with child focused entertainment from performers and princesses! The AKM Blue Team will also be there, and everyone will have a chance to participate in a short demo class. Expect fun fair rides and inflatables, face painting, Punch & Judy by Tom Foolery and many more exciting guests! A great day out for the family, not to be missed! Find out more.
---
Back by popular demand, the annual Plant Swap returns to Longlevens Library for the fourth year running! It is a free event, all you need to do is bring along something green and leafy to swap! You may have some seedlings, plant cuttings, trays of surplus bedding plants, either vegetables or flowers, bushes or shrubs, anything you would like to share from your garden in return for something new and different. There will also be cakes, biscuits and refreshments available for donations. Just turn up and join in the fun from 11am - 1pm. Find out more.
---
Array
Come along to Matson Library for free, dress up story time this Saturday! You can wear your own costume or try on one from the fancy dress box! You'll read a couple of stories and have some fun as a group, followed by Saturday Craft and time in the Fun Zone. No booking required, just turn up at 10:30am! Find out more.
---
Sunday 2nd June
The Gloucester Car Boot and Flea Market returns today at Hempsted Meadows, from 6am - 12pm. It's a great place to find everything you never knew you needed - but somehow have to have! From antiques and collectables to new and second-hand domestic items and clothes. There's also onsite catering vans, ice cream and refreshing barista coffee to perk up your perusing and purchasing, with an inflatable castle and soft-play area so kids can be amused while you shop! Find out more.
---
Kingsway Big Lunch is back again this year from 12pm - 4pm, with Robyn Laura providing the musical entertainment, as well as bouncy castles, games and bumper cars, bar and hot food, face painting and enchanting story princesses, stalls, a dog show and so much more! It's always a great event, with something for everyone! Find out more.
That's all folks! We hope you have a wonderful week of fun in the sun! Be sure to keep a lookout for more half term events and activities popping up on the website, and don't forget you can browse the site any time and

find activities by day, age, cost, distance and more

!
Find family things to do in towns and cities around the UK on My Town Rocks. Visit our latest launch Oxford Rocks to find things to do in Oxford and visit www.mytownrocks.co.uk anytime to browse the network and find your nearest town.
---