Family Friendly Cafes in Gloucester
Published:
Categories
Getting out of the house with a little one in tow can be a trial in itself, so it's only fair that you should be rewarded with tea and cake, right? Here at Gloucester Rocks we certainly think so.
We asked a number of local mamas about their favourite family friendly cafe in Gloucester and here's a round up of where you can enjoy a coffee and sweet treat in (relative) peace!
We are really looking forward to exploring the gems that have been recommeded...
Family Friendly Cafes in Gloucester
---
"The Monk's Kitchen at Gloucester Cathedral is a gem in the heart of Gloucester city centre. With baby changing facilities, comfy sofas and toys for toddlers, this is a peaceful place to meet for a hot drink and a bite to eat. Being an independent venue, the varied menu offers something for everyone and celebrates local produce from in and around Gloucestershire. The cathedral itself offers free entertainment for children with opportunities to treasure hunt, dress up and spot some of the places Harry Potter was fimed".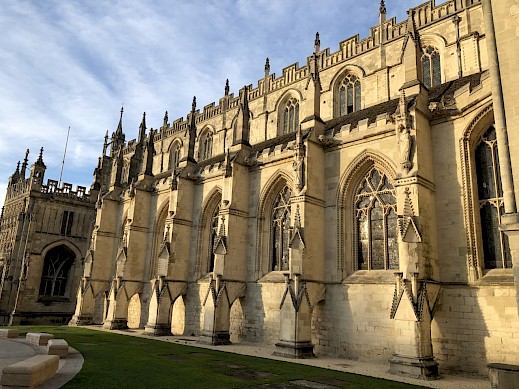 ---
Array
Travel editor at Travel Loving Family and mum of two boys Lisa lived in Gloucester Docks for a couple of years onboard a narrow boat and says the area will always be special to her. She visits the city as often as she can, and loves that there are loads of quirky independent coffee shops.
"One of our favourites is the Warehouse Climbing Centre which has a really spacious coffee shop, with loads of space for push chairs and comfy leather seats. They sell huge sausage rolls too which my boys love. We've recently taken them to the Narrow Boat Cafe, Cafe on the Cut, in Gloucester Quays. They found this fascinating and loved the hot chocolates with marshmallows. The narrow boat cafe is brilliant for pre school children onwards but Iwouldn't recommend it for parents with young children as push chairs need to be left on the quayside and there is no room inside for running around. Speaking to the owner recently though she told me she is relocating the coffee shop soon and will be located near to Saul Junction. Thirdly I can thoroughly recommend The Stables Cafe, located along the canal bank in Saul Junction. The coffee shop is on two levels, it's always busy at weekends with walkers, but if you find a table upstairs it's a fabulous place to enjoy a hot drink and delicious slice of cake. They also have kids toys and books which are always a bonus!"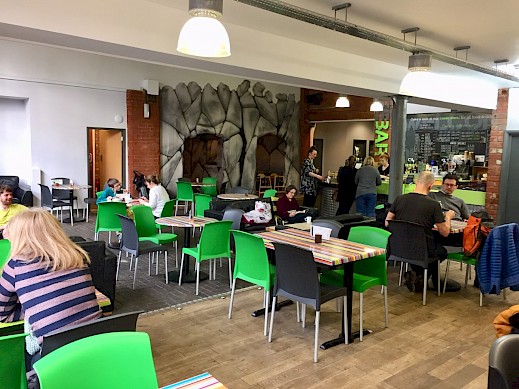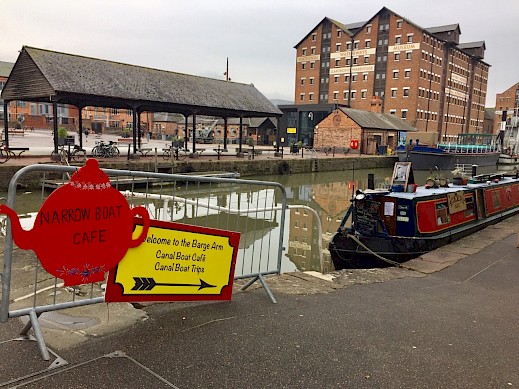 ---
Array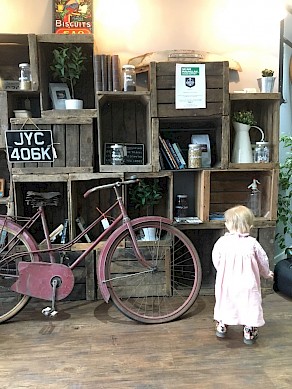 "I love going to the Roastery cafe in Quedgeley with my girls. We often meet up with friends in this modern, cosy cafe and it never disappoints. As well as making a great cup of coffee and always having a superb collection of cakes, it has lots of space for pushchairs and baby changing facilities. They are very accommodating of little ones, and the staff will often make the effort to have a little chat with my daughter, as she plays/eats cake!! As if that wasn't enough they do a fabulous kids hot chocolate! Oh and they also have a convenient, free car park."
Hanna documents her life and the development of her daughters on her blog Two Cherries.
---
Local mum of one Jess, who blogs at JesstheStar, loves taking her daughter to The Q Club in Quedgeley, a brilliant family-friendly cafe in Gloucester with soft play!
"The Q Club in Quedgeley has been one of my favourite places to visit with my small person. The soft play area is the ideal place for sitting with a hot drink while your toddler uses up some of their boundless energy. They even have a small and enclosed baby area so it really caters for littler ones too. On better weather days there is also an outdoor play area to entertain them. The manager, Richard, is so welcoming and friendly plus he makes a mean cappuccino and always has some yummy cakes on offer."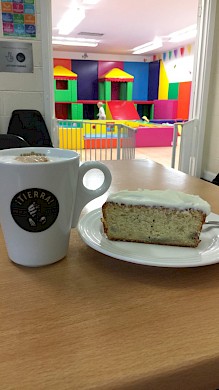 ---
Array
Coffee and cake-lover Amy is mum to toddler Freddie, and she enjoys a garden centre jaunt. Amy blogs about motherhood, toddler play ideas and focuses on sustainability over at AmyJaneandBaby.
"Highfields Garden Centre is one of Gloucestershire's hidden gems! I think every Mum loves a garden centre, especially on a rainy day, however venture to the back of Highfields and you'll discover the restaurant. It's a lovely space with plenty of room for prams. The huge windows look out over the countryside, or if you can grab a window seat your little one can spot the ducks whilst they eat. Every day their in-house team of bakers cook up a variety of delicious cakes and I really can't choose a favourite. Though I can highly recommend the raspberry/white chocolate, mocha and the lemon/white chocolate. The coffee is strong and they make an excellent latte (you may even get a bit of coffee art on top of yours!).
They also serve lunch and on certain days of the week you can enjoy a generous roast dinner too! Afterwards your little can burn off some energy with a walk to see the ducks, hens and the rather majestic peacock. It's the perfect place to spend a couple of hours!"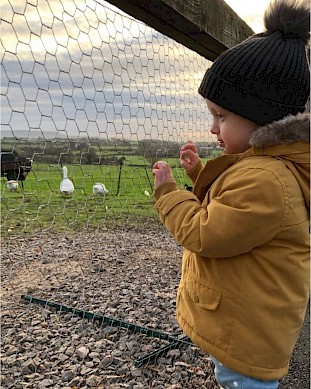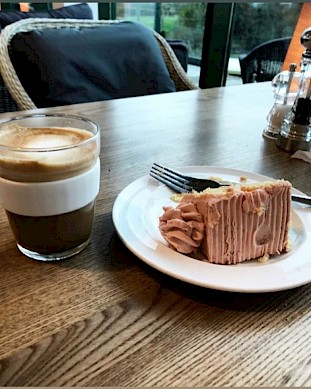 ---
Array
Gloucestershire based mum of two Danni enjoys spending a few hours at super family-friendly Gloucester Services, M5 (between J11a and 12).
"Whilst it's not the cheapest of options, it provides you everything you could want and more to while away a rainy afternoon with the kids. You can guarantee a half-decent cup of tea or coffee, a very wide selection of lunch options and my favourite bit, the cake! With local baker, Hetty's Kitchen providing just some of the cake options you know you are in for an absolute treat that you won't want to share with the kids!
But the best is yet to come with Gloucester services. Once you've eaten your lunch/cake or just had a coffee, the little ones can play in the fantastic natural wood indoor play area. Complete with slides, climbing walls, bridges (depending on which side of the motorway you're on), the kids are entertained and all for free. It's not your average soft play, that's for sure. They do also have an outdoor play area, but we haven't ventured that far yet."
You can read more about Danni's adventures as a mum over on her blog.
---
Array
Jamie from Mama Bear of One recommends Roots Community Cafe. Roots offers a friendly environment to head for a drink with little ones; they have baby changing, enough space for push chairs, and a little play corner too. Roots run a baby and toddler group on Fridays too!
"I was pleasantly surprised when I first went to Roots Cafe. There is on-road parking outside, plenty of space for pushchairs, and a little play area to keep the children entertained whilst you drink a hot drink! I love that it is a community cafe too, meaning that they are a social enterprise that is making a positive impact to the neighbourhood they are in."
---
If you are interested in featuring in any of our articles, please email jamie@gloucesterrocks.co.uk
---
---