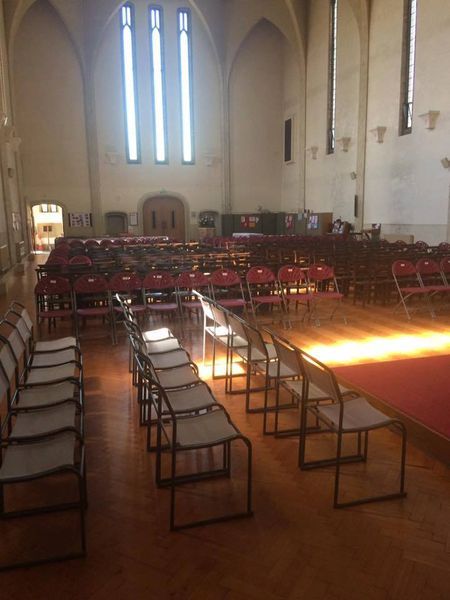 St Barnabas has two halls within the same building, but with separate entrances, both of which are available to hire for regular clubs or societies, and for casual bookings for parties, dinners, sales etc. There is a small car park, and users of the Hall are welcome to use the church car park immediately across the road as long as it is available.
The large hall (210sq m) is ideal for parties. There is good space for about 100 people seated as well as leaving space for dancing etc, as well as a curtained stage. There are tables and chairs for approx 130. The toilet facilities are excellent, having recently been renovated and an easy access toilet installed. There are also spacious kitchen facilities, and your hire fee includes the use of the two gas cookers, hot water boiler, and crockery, and cutlery on request.
Large Hall cost: £15 per hour
Friday/Saturday Night Party (for family and recommended friends of church congregation only): £150 from 6pm
Small Hall [51 sq m] is ideal for smaller gatherings approx. 35/40 people and hire includes use of large kitchen as above, (if available) There is a separate access from the car park.
Small Hall cost: £10 per hour
HOW TO BOOK
Please phone or email the church office to check availability, and describe your purpose of hire: 01452 524173 / office@stbarnabasgloucester.org.uk.
Then either download a Hiring Agreement form and Standard Conditions of Hire from this website:
Download: Hall Booking Form (PDF)
Download: Conditions of Hire (PDF)
Or pick up a copy from the box outside the office door within St Barnabas Church (walk right through the church to far right hand corner; the church is always open during daylight hours). Fill in the form and return either through the church office letter box (as above) or post to:
St Barnabas Hall Bookings, c/o 200 Reservoir Road, Gloucester, GL4 6SB. Include £10 non-returnable deposit to secure your booking. A receipt for your deposit confirming your booking will then be sent to you.
Contact details
We aim to keep the information on Gloucester Rocks accurate but if you have noticed an error please let us know
Suggest an edit